—
September 08, 2023 — October 15, 2023
July 07, 2023 — August 13, 2023
June 04 - August 07, 2022
April 02 - May 08, 2022
January 29 - March 13, 2022
November 11, 2021 - January 09, 2022
September 11 - October 24, 2021
July 17 - August 22, 2021
April 15 - May 30, 2021
February 18 - April 01, 2021
December 17, 2020 - February 04, 2021
October 15 - November 19, 2020
August 27 - October 04, 2020
April 18 - May 31, 2020
February 01 - March 14, 2020
November 16, 2019 - January 10, 2020
September 14 - November 08, 2019
July 20 - September 06, 2019
May 25 - July 12, 2019
March 30 - May 17, 2019
January 26 - March 15, 2019
November 17 - December 20, 2018
November 03, 2023 — December 10, 2023

Fuller Rosen Gallery is proud to announce Homesick, a video exhibition featuring work by Reem Al-Wakeal, Wiley + Sabrina (Bingyi) Spurlock, and Amy Chiao. Join us for an opening reception on Friday, November 03 from 6-9 pm.


Reem Al-Wakeal, Breakfast in Lebanon, 2019, video, 7 minutes 54 seconds, image courtesy of the artist.




What reminds you of family; preparing a cherished recipe, a mother's embrace, a summer road trip? Through the medium of video, Reem Al-Wakeal, Wiley + Sabrina (Bingyi) Spurlock, and Amy Chiao revisit memories of home to reclaim their contemporary identities. Crafting a beloved breakfast with her mother, Al-Wakeal explores the pressures of assimilating to her new Canadian home in Breakfast in Lebanon. The team of Wiley + Spurlock reviewed and edited over 50 hours of VHS footage in the creation of the video performance HERE IS MY MOM. She's Dead. In A Western Headed East, Chiao documents the Chiao and Tsai families' drive across the United States in 2005. A place you'll always remember but can never go back to, Homesick critically investigates nostalgia by exploring the family histories of each artist.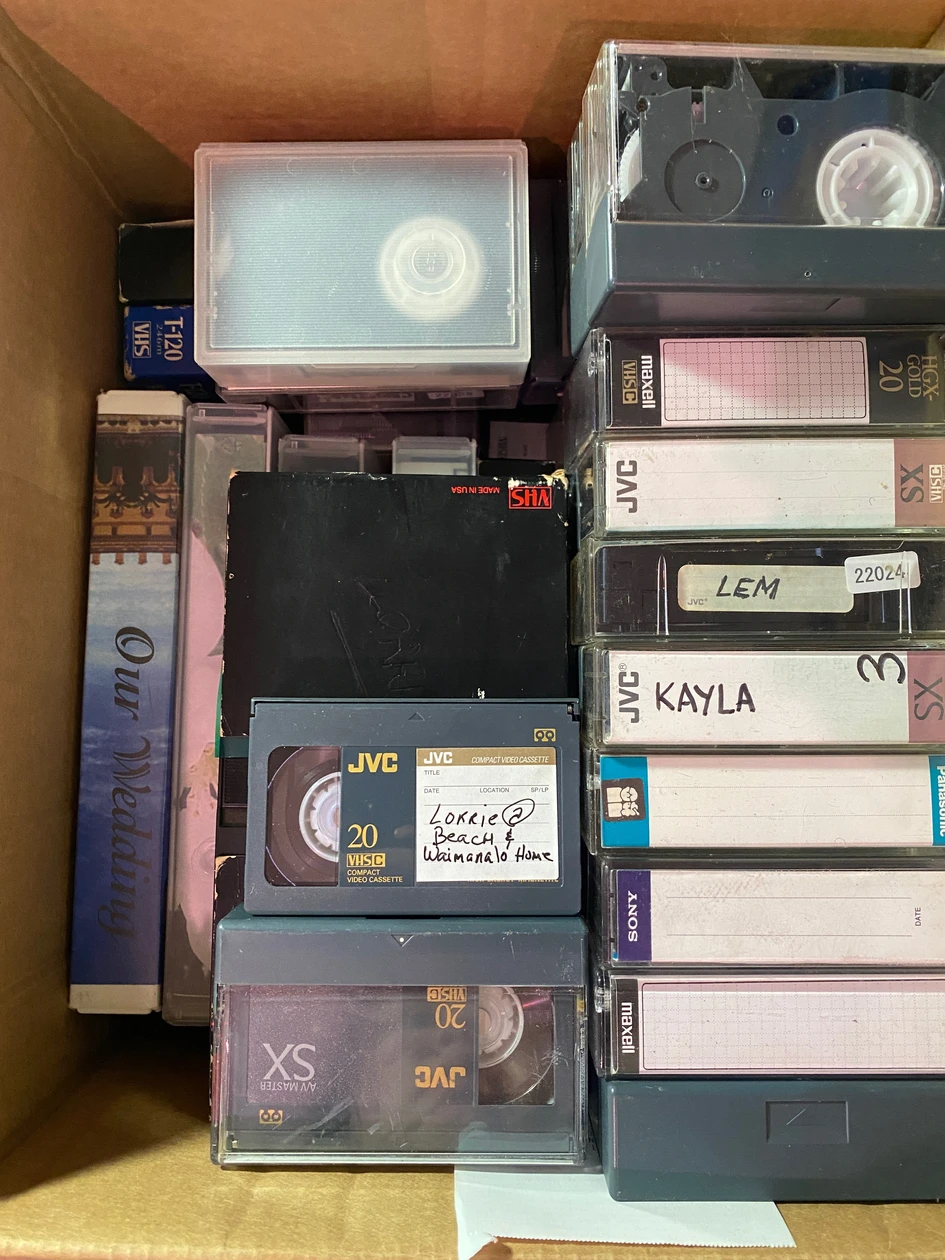 Wiley + Sabrina (Bingyi) Spurlock, videotapes used for

HERE IS MY MOM. She's Dead.

, 2021, video, 10 minutes 18 seconds, image courtesy of the artists.


Reem Al-Wakeal's Breakfast in Lebanon poetically recreates her family's morning ritual of preparing Manakeesh. Reconnecting with her Lebanese heritage and identity through storytelling, cultural practices and cooking with her mother, Al-Wakeal navigates expectations to assimilate to her family's new home in Canada. With few Middle Eastern family and friends in her childhood, Al-Wakeal's mother was her only source of knowledge of Lebanese traditions. Assembling Manakeesh offers Al-Wakeal a daily cultural touchstone to celebrate and cherish; as a child, she would always eat it for breakfast when she went to Lebanon and sat on her grandmother's balcony.

Themes of grief, memory, and multiculturalism continue in the video performance by Wiley + Sabrina (Bingyi) Spurlock. HERE IS MY MOM. She's Dead. chronicles the artists' journey to process the digital memories transcribed on VHS by Wiley's mother, Lorrie Ann Macanas Wiley. The videotapes Lorrie created of milestone family moments sat untouched for decades due to her untimely death in 2001 by a drunk driver. Through an intense collaborative process, Wiley and Spurlock craft a testament to the trust gained between creative partners and the reverence artists have with their subjects. Originally broadcast as an eight-hour live stream performance, the newly edited video serves as a summary of Wiley and Spurlock's shared commitment to honoring a legacy of love.


Amy Chiao, A Western Headed East, 2017, video, 10 minutes 54 seconds, image courtesy of the artist.


Amy Chiao's A Western Headed East bisects the clichés of road trips — car karaoke, highway motels, fast food — with a sincere and intimate portrait of the Chiao and Tsai families' drive across the United States in 2005. Chiao brings us inside the minivan from California to New York, allowing the audience to revel in the majesty of vast American landscapes and the joys of quality family time. "Take me home. Country roads. Mountain Mama. We're almost heaven." Chiao's deft storytelling and cool charisma frame a moving tribute to her family's performing arts history, past and present. Composing itself as both core memory and fleeting emotion, Homesick spotlights the tender beauty that lies within the everyday moments of family life.


---
Reem Al-Wakeal
(b. 1998, she/her) is a Toronto based multidisciplinary creative of Egyptian and Lebanese descent. She works with different mediums including video, photography, design and occasionally artist multiples. Her works explore themes of nature and identity such as culture and religion. As an emerging artist, she continues to explore different topics and mediums of work through research. Reem has had her work featured in
ARTSIDEOUT
, Gallery 1265,
in/progress Magazine
, the Annual Juried Art Exhibition; the Annual ACM Studio Art Exhibition at the University of Toronto, Beaver Hall Gallery, and Trinity Square.
Wiley
(b. 1995, she/her) is an American artist from Honolulu, HI. She holds a BFA from Portland State University. Her works delve into the shaping forces of lived experiences on her identity. Exhibiting in Hawaii, Portland, Los Angeles, and Philadelphia, Wiley's work speaks to the universal journey of self-discovery. Each piece invites viewers to explore the interplay between personal history and artistic expression. Informed by authenticity, Wiley's evolving artistry promises a continued exploration of the profound connection between her life's narrative and the universal human experience.
Homesick
is Wiley's second exhibition with Fuller Rosen Gallery.
Sabrina (Bingyi) Spurlock
(b. 1998, they/them) is a Taiwanese-American artist from Las Vegas, NV currently based in Portland, OR. They hold a BA in Studio Art and a BA in Accounting from Pacific University. Bingyi explores the power of collaboration, viewing it not just as a method of creation but as a reflection of shared narratives and collective memory. Their work analyzes the impact of traumatic experiences on diasporic identity formation, and how the passage of time distorts emotions and memories.
Amy Chiao
(b. 1992, she/her) is a Los Angeles based multimedia artist, performer, designer, and director working in site-specific performance installation, video, durational character development, and materials design. Raised in a home of Cantonese musicians, Italian opera singers, and mannequin manufacturers, her practices strive to uncover and dimensionalize the fictitious nature of society through dramaturgy, narratology, and speculative design strategies. She holds a BFA in Textiles at the Rhode Island School of Design (RISD) and an MFA in Scene Design with a concentration in Integrated Media at the California Institute of the Arts (CalArts).