flat out
Brandi Kruse
July 20 - September 06, 2019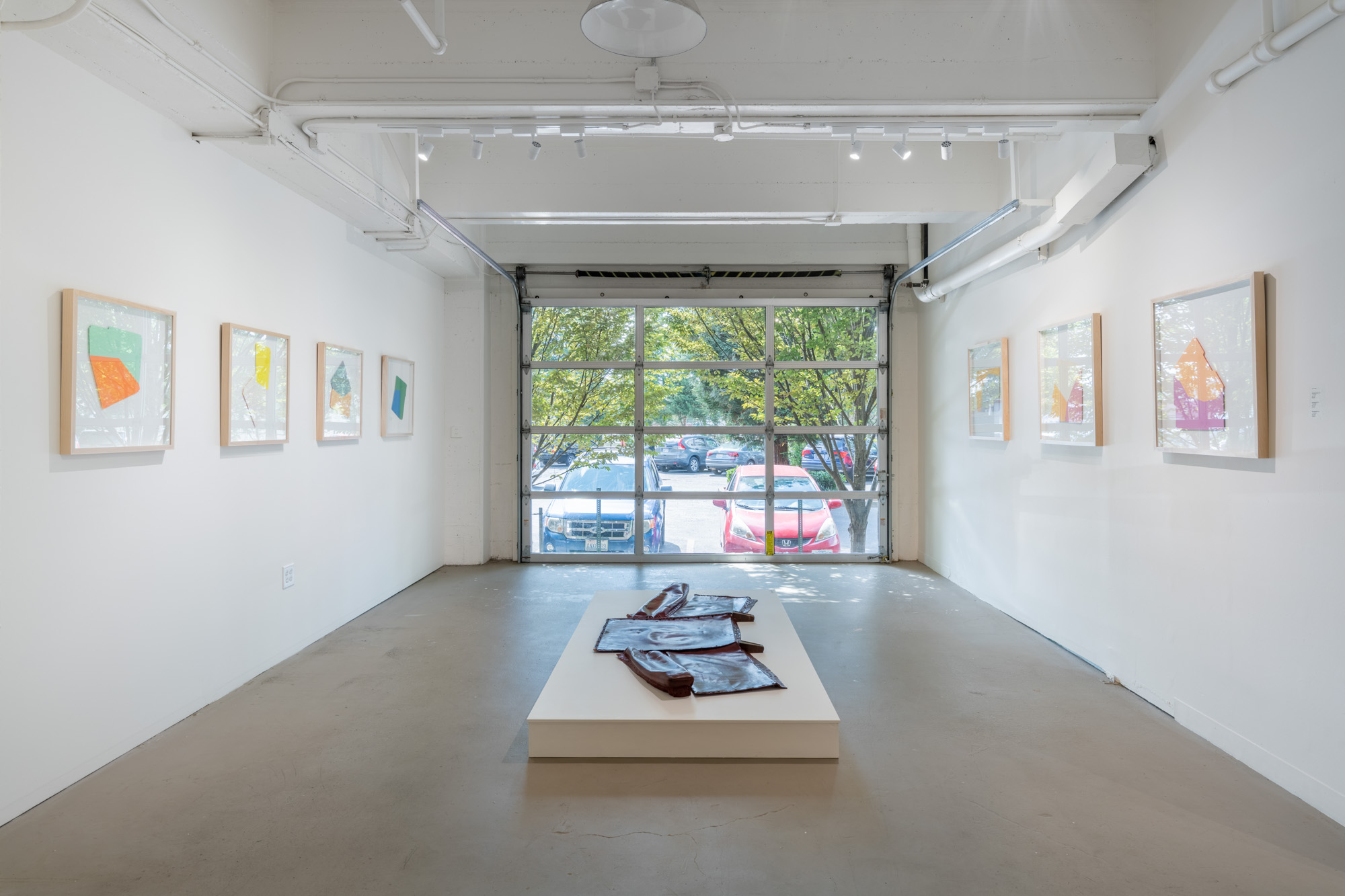 Photos courtesy Mario Gallucci © 2019



Order a copy of flat out by Brandi Kruse from our gallery shop.

Part of an ongoing consideration of immaterial and material intersections, Kruse's work in flat out investigates imagined spaces, physical absence and how very few things are actually flat. Light, reflection, and memory are compressed and expanded into sculpture, poetry, and found objects.

I flatten things every day: my face in mirror images, my body in the shadows, the world through photographs. I have flattened ideas by recording them on pages, in words made of letters, made of lines, shapes without form; seemingly non-dimensional. But they are not formless and they are not without dimension. Through this flattening and simplification, I can make visible the material beyond spaces or things that exist in time, but are not necessarily fixed such as ideas, memories, losses, yearnings.


For many years now I have thought about reflections in windows as a way of time traveling through dimensions and a way of challenging a linear perspective of past, present, and future. Perhaps physicists are right, that it happens all at once. You've seen the models, they equate it to a loaf of bread or a cake. I imagine that when I am looking through the window I am looking at my past; things are familiar and ordinary. The reflection of myself is the present and all of the things that are rather confusing — including the reflection of what's happening behind me — is my future. I can't make out exactly what is what. One of the flattest things in my life is my own reflection.

I rely on the ease in which our brains shift between dimensions in space and time. The work in flat out is simplified, undone, and made awkward. They are left to float somewhere between past and potential, memory and imagination, the written and the reader.




Brandi Kruse

(b. 1979, she/her) is an artist and educator from Ypsilanti, Michigan and based in Portland, Oregon. Kruse's artwork spans multiple disciplines and addresses our expectations within real and imagined spaces. As a social justice educator working at the confluence of art and language, Kruse is committed to interdisciplinary teaching through a critical literacy perspective. She is the co-founder of

KC

, a writers' collective publishing poetry zines since 2013 and in 2015 she produced an artist publication called

Impossible Paper Architecture

.

Kruse earned a BS in Education (Art and Literature) from Central Michigan University in 2003 and an MFA in Print Media from Pacific Northwest College of Art in 2016. She teaches art at Springwater Trail High School, Pacific Northwest College of Art and Pacific University. Kruse is the recipient of residencies at the Portland Art Museum, Caldera Arts Center, and The Städelschule in Frankfurt, Germany.

Kruse's work has been exhibited at numerous institutions in Portland including the Center for Contemporary Art & Culture, Museum of Contemporary Craft, and Worksound. Kruse has also exhibited work in Tacoma, WA at 950 Gallery, Union Gallery in Amherst, MA, Paper Plane Gallery in Atlanta, GA, Lost Coast Culture Machine in Ft. Bragg, CA, and Worksound International in Mexico City, MX.