Resound
Angélica Maria Millán Lozano + Frankie Krupa Vahdani

July 17 - August 22, 2021


Angélica Maria Millán Lozano, Espinas 10, 2021



(Portland, OR) Fuller Rosen Gallery is thrilled to announce Resound, a two person exhibition of new and recent work by Angélica Maria Millán Lozano and Frankie Krupa Vahdani. Resound features drawings, paintings, mixed-media work, and fabric pieces infused by the unique cultural hybridity of each artists' heritage and response to contemporary socio-political events in their respective locales of Brooklyn, New York and the Skagit Valley, Washington. Color, pattern, and texture invigorate the exhibition space revealing artifacts and memories of each artists' familial past and present. Resound will run through August 22, 2021.

Join us for an in-person opening reception on Saturday July 17, 2021 from 5-8 pm.

Schedule a viewing appointment or visit during open gallery hours.

What sounds ring out from your past and guide your future? Invoking her memories of Colombia to address the current political unrest, Angélica Maria Millán Lozano's body of work encompasses themes of familiarity, absurdity, foreignness, fear, and intimacy. Visual traces of sounds recognized by the diaspora abroad — the Colombian anthem physically resounding the pain and loss of people dying in the streets to the carcajadas or cackles from family members — echo in Millán Lozano's hand which sews, unravels, and burns garments previously worn or intuitively found.


Angélica Maria Millán Lozano, Surcos, 2021


Surcos (2021) was created in direct response to the uprising currently happening in Colombia. Thousands of Colombians took to the streets in protest of unjust tax reform, government corruption, ongoing paramilitarism, and displacement. Millán Lozano made the piece with immediately available fabrics, including a t-shirt that belonged to her brother, for a demonstration in Times Square. The word inmarcesible or "unfading" is memorable from Colombia's national anthem which represents its past history with colonialism along with its reckoning of covert military intrusion and manipulation by the United States. The roar of the protesting crowd, the sound of threat and possibility, reverberates with the intensity of fire as evidenced in the burns of Espinas 10 (2021) Paying honor to todas las carcajadas that echo through generations, las q lo hacen a uno lose breath, las q lo hacen a uno lose balance, bend over, and fling arms, Carcajadas de sumas extraordinarias that roar (2020) remembers que vengo de pura recocha y relajo. These repeated traces link action with artifact, past with present.


Angélica Maria Millán Lozano, Gritos, 2021


Millán Lozano then turns the lens of interrogation to her own body and dreams by confronting her recurring sleep paralysis and night terrors through a series of found and re-assembled fabric works. Experiencing the worst episodes while living in Portland, Oregon, the tones of the pieces mirror the internal feeling Millán Lozano feels while dormant; a state beyond the physical and unexplainable. The techniques used in Gritos (2021) mimic the spine numbing chill the artist experiences during sleep. The unthreading action is a debilitation of the structure much like how the artist's body feels debilitated by fear; internal organs weighted underneath an unknown presence.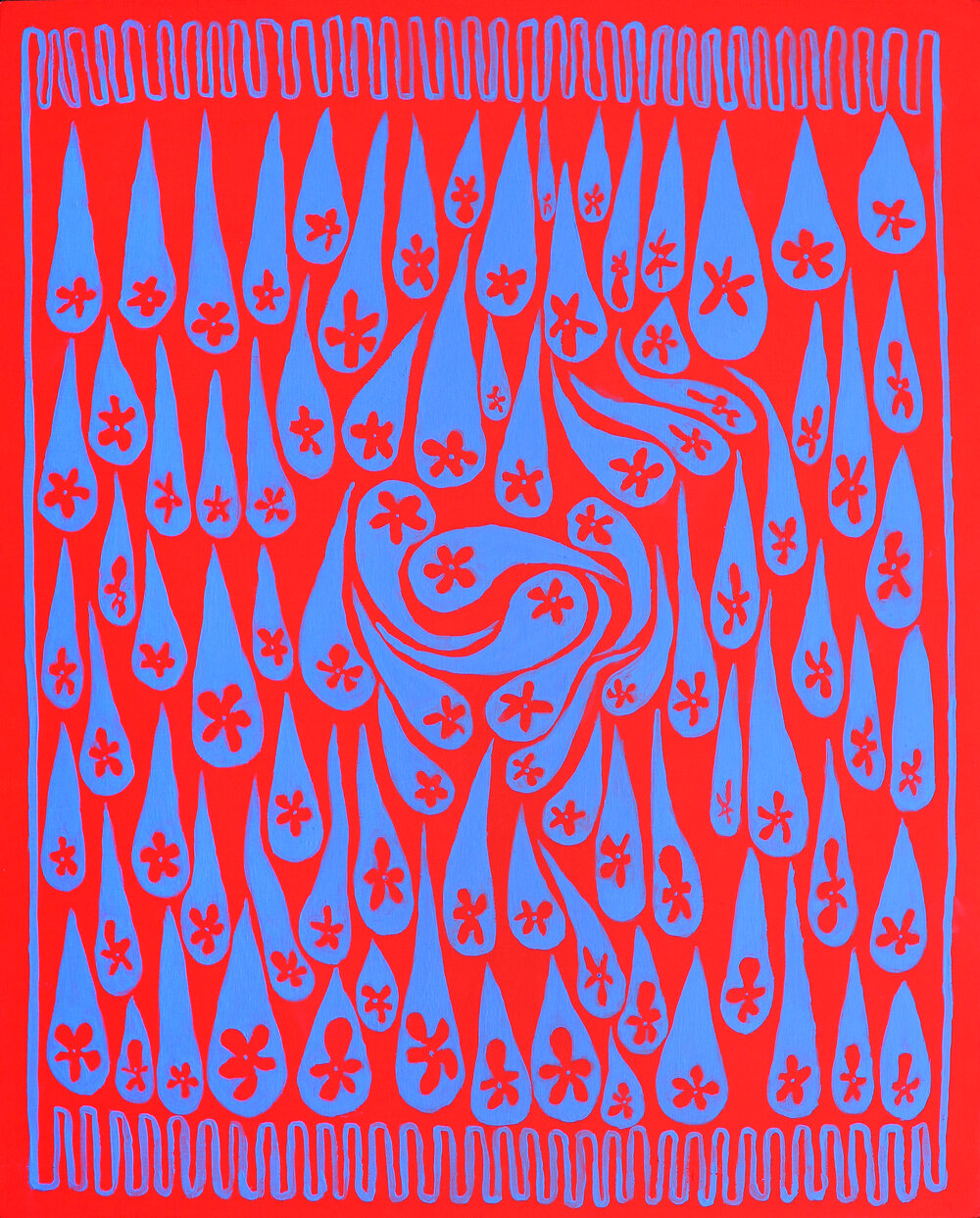 Frankie Krupa Vahdani, Persian Cowboy, 2020



Frankie Krupa Vahdani's work organically combines the vibrant and highly decorative traditions of her Iranian Polish heritage into intuitive illustrations. Like Millán Lozano, Krupa Vahdani proudly proclaims her ancestry with maximalist aesthetics; disrupting the predominantly white and subdued cultural landscape of the Pacific Northwest with phosphorescent, color soaked paintings. Immediate and commanding colors spotlight recognizable but warped motifs inspired by Iranian textiles and Polish ceramics. Through fiction and mythology, works are created that acknowledge and process being a child of multiple diasporas in North America.

The personal mythmaking in Krupa Vahdani's work stems from her practice of self-education. Finding an identity as a child of one or multiple diasporas was a struggle for Krupa Vahdani, especially when no structure was present to understand herself through. Not having histories or events explained due to generational trauma — Krupa Vahdani's father's family left Iran during the Revolution — caused omissions and voids that were then filled with new narratives inspired by ancient epics, thought experiments from science fiction, and contemporary Iranian women writers such as Farzaneh Milani. Cornerstones of Persian culture including The Shahnameh (The Book of Kings) and One Thousand and One Nights are alluded to along with visual aesthetics based on the Farsi alphabet. Floral and wildlife imagery, a staple throughout Persian history, is then synthesized with Krupa Vahdani's matrilineal heritage to produce a new visual language derived from Persian design, iconography, and accented with color palettes inspired by Polish Folk art.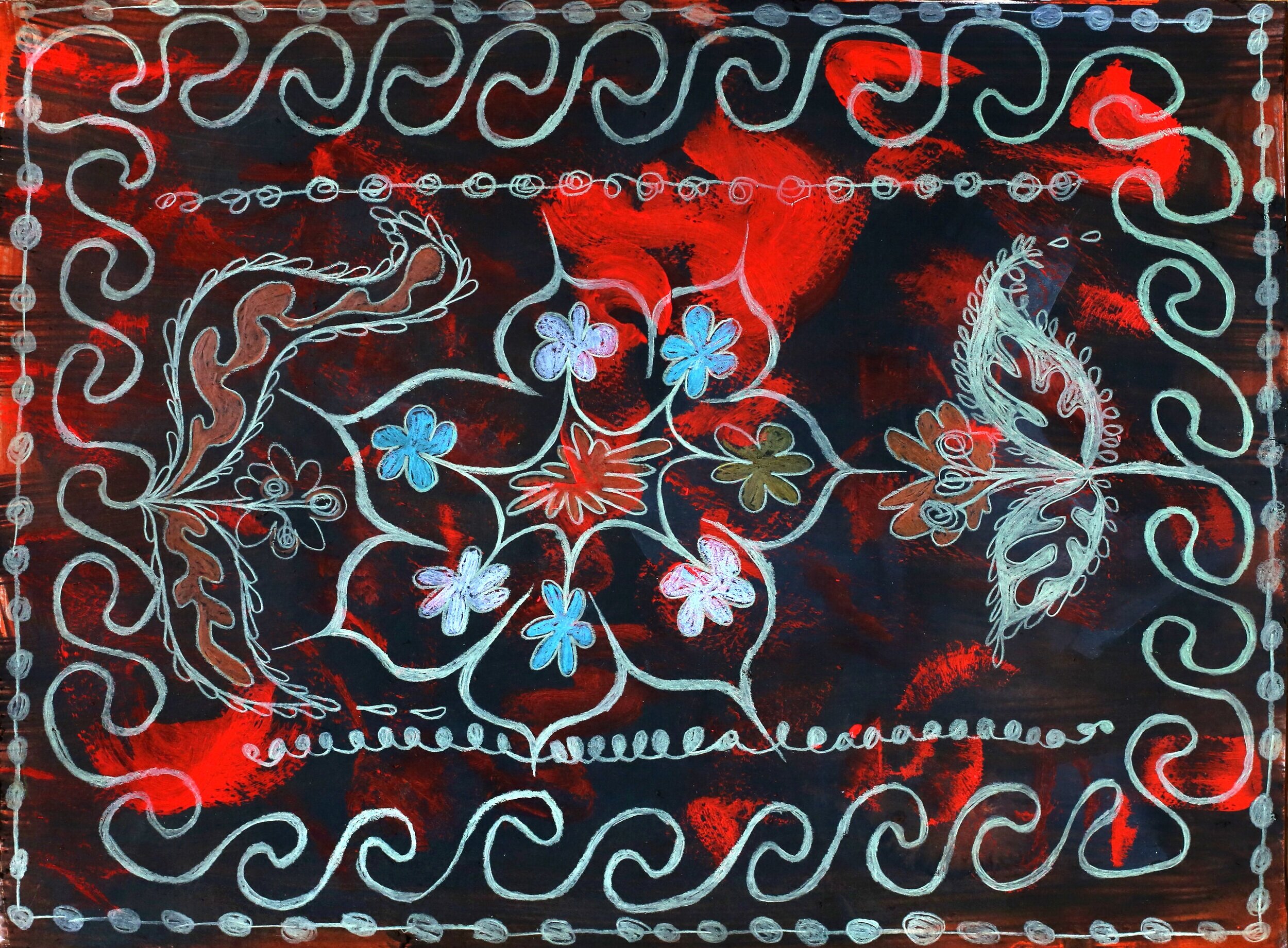 Frankie Krupa Vahdani, Strawberries belong to themselves, 2020


Benevolent Mother Energy (2015) and Benevolent Father Energy (2015), installed in the gallery windows, set the scene for the intense visual symphony Krupa Vahdani conducts. Unmistakably bold and sumptuous, Persian Cowboy (2020) depicts a Persian style rug swirled and dripped through a cosmic collision of red and blue. The high contrast work is almost blinding, fully activating the viewers' photoreceptor cells. Color is pushed to the edge of the panel leaving no breathing room, only vibrancy. In Space Drama (2019), floral and diamond patterns connect with squared eyelet motifs against a deep black background. The sharp, graphic compositions shift to incorporate deeper hued earth tones as seen in Strawberries belong to themselves (2020) and Sunflower (2020) allowing the viewer a longer look into the swirly haze of time and mystery.


Angélica Maria Millán Lozano

(b. 1989, she/her) is an artist from Bogotá, Colombia currently based in Brooklyn, New York. She received her MFA in Visual Studies from Pacific Northwest College of Art in Portland, OR. Millán Lozano has been a resident at the Ox Bow School of Art and has shown nationally at La Salita, Equity Gallery, ARENA at Suite 806 in New York, NY, Jacob Lawrence Gallery at University of Washington in Seattle, Oregon Center for Contemporary Art (formerly Disjecta), and Nationale in Portland, OR.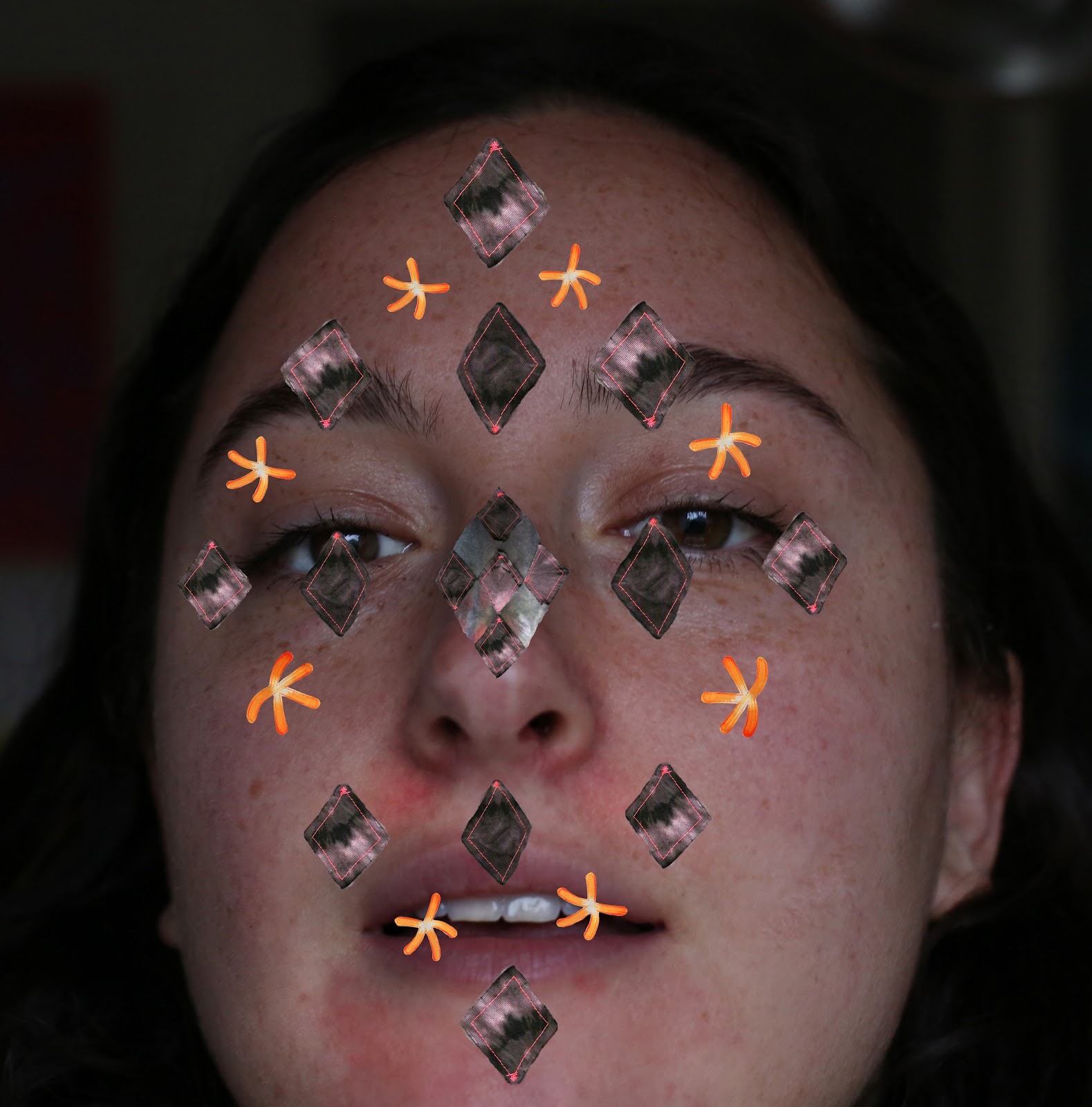 Frankie Krupa Vahdani
(b. 1990, she/her) is a multidisciplinary artist living and working in the Pacific Northwest. Krupa Vahdani graduated from Western Washington University with a BA in Studio Art. Krupa Vahdani has been a resident at Centrum in Port Townsend, WA and has exhibited work at Public Pool Gallery in Los Angeles, CA, The Vestibule in Seattle, WA, and has been featured in Round 2 and 4 of Flat Rate Contemporary's online exhibitions.