A Change of Light and other observations
Sammie Cetta
September 14 - November 08, 2019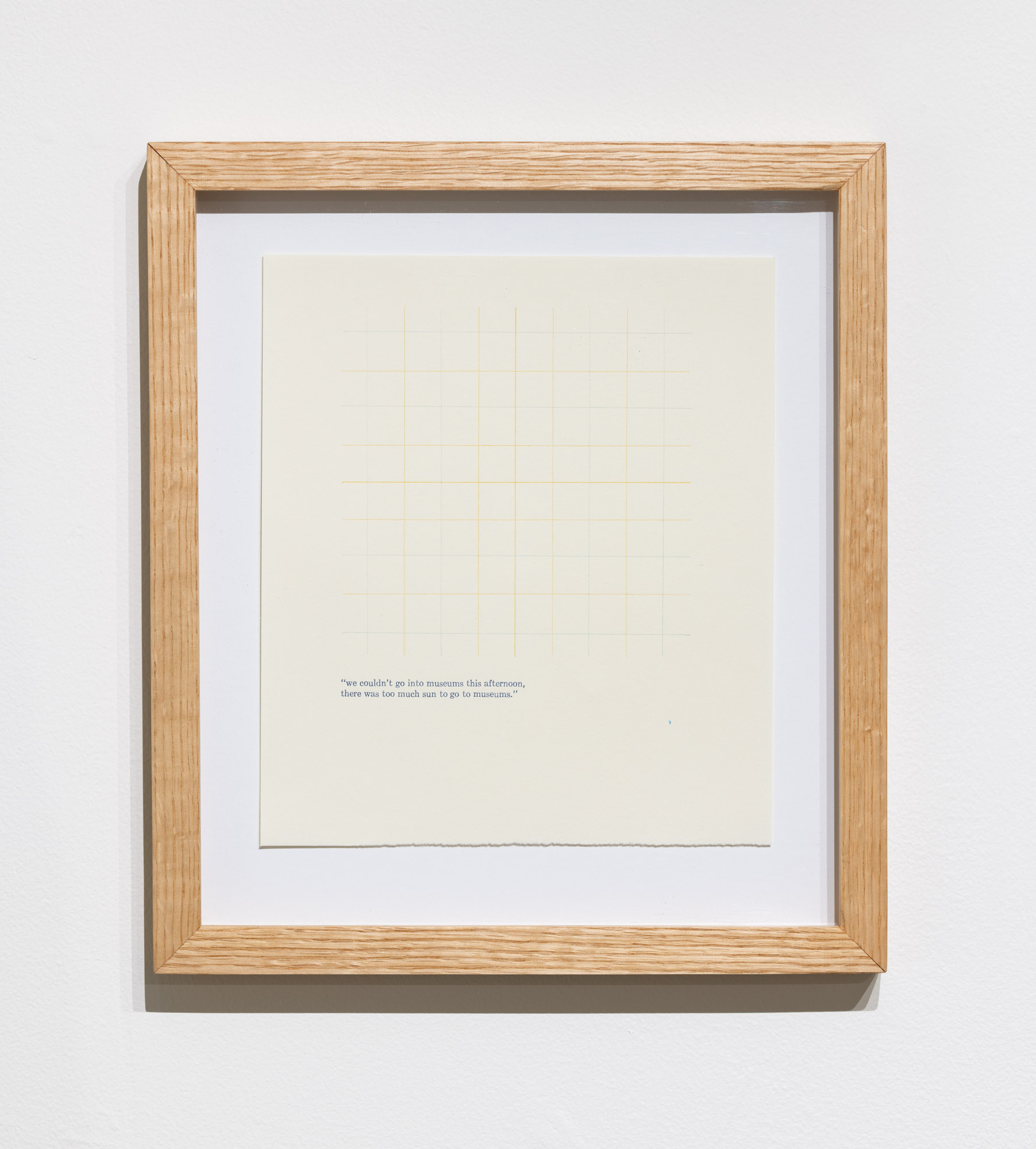 Photos courtesy Mario Gallucci © 2019


Cetta's work in A Change of Light and other observations is a welcomed intermission from the deluge of contemporary imagery and provides a quiet place for the viewer to imagine their own potential. True to the artists preoccupation with the sky, the space for possibility begins at the horizon line; where the earth and sky dissolve into one another. In a series of 12 letterpress prints, Cetta appoints text written by Julio Cortázar as a jumping off point filled with hope and discovery.

A Change of Light and other observations is a suite of prints produced during Cetta's time as an artist in residence at the Personal Libraries Library, a subscription based lending library that recreates and reconsiders the personal libraries of thinkers and makers. She looked to artists, authors, mathematicians, and scientists who all watched the sky; in particular, Italo Calvino's personal library. Cetta engaged in the literature they read or wrote to look at the past in their eyes and envision her own future. This show also includes two sculptures in reference to the history of printmaking.

…

I begin at Julio Cortázar's A Change of Light and other stories (1978). Cortázar's collection of short stories is comprised of (pre-dystopian, anxiety-riddled, tragic) vignettes, that always pinpoint the moment of breakthrough. I'm so afraid of the future that these moments within the text gave me my own hope. I took Cortázar's words and sat with them, chewed them over, digested them. I rewrote them in my own hand, shifting tenses and excluding signs of gender. Coincidentally, a majority depicted the sky or the weather.

At some point, I realized that I had given up on figurative images. I'm exhausted by images, from images of human beings in pain to jaded, compliant still lives. In an analog manner, I began printing lined paper, forming my own sense of respite. Lined paper is a fragmented aspect of everyday life that is prepared to live tomorrow with the remains of yesterday. Stationary is where it all begins, where we keep track of thought; each new line is potential space to communicate, to relay or reciprocate a feeling. I can see the sky above us at any given moment as this type of potential, which is why I'm so hellbent on connecting myself, or more importantly my perspective, to the weather.

The sculptural works in this show are the beginnings of a collection of promises. First, the paper knots are evident commitment to making the work itself, and are dedicated to the Printmaker. Second, the Marble Tablet of Grand Vision stems historically from the Roman emperor Octavio, who was compelled to change Rome, a city found in brick, and repave it in marble. He added something very notable to the bath house, where citizens frequented: the first public library. Literacy increased extraordinarily and people began to read for pleasure. I must have dreamt it, but allegedly there was a stone in the middle of the foyer that explained what Octavio positively envisioned for the future of Rome.

In all of my worries about the future, the words of Italo Calvino strike me like an arrow to the heart. He writes, "perhaps it is a sign that we frequently wonder what will happen… I would like to devote [this] to certain values, qualities, or particularities ... that are very close to my heart, trying to situate them within the perspective [of the immediate future]." I invite you to make a rubbing of this stone, to consider what tomorrow can be made into, and what every line on the stationary you write on will justly bring.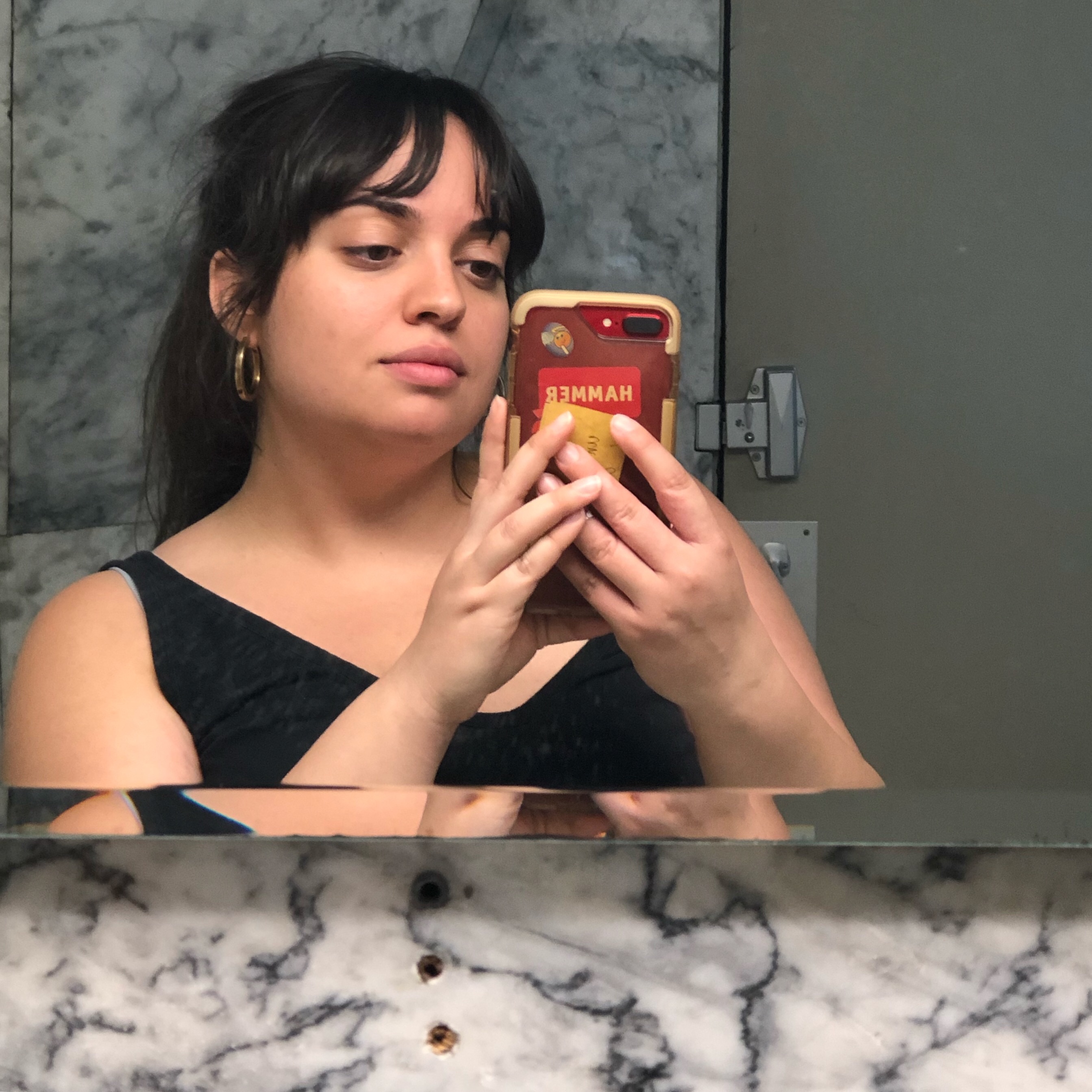 Sammie Cetta
(b. 1994 in West Hills, California, she/her) is a printmaker and reader currently based in Portland, Oregon. In her work, she identifies the relationship between herself, the Sun, and literature as an allegory. This allegory blurs the literal and the figurative, touching on notions of time, the written word, and marking everyday rhythms.
Cetta graduated from Pacific Northwest College of Art in 2016, with a Bachelor of Fine Art, majoring in printmaking, minoring in sculpture and publications. Cetta's work has been shown at her alma mater and at Anytime Dept. in Cincinnati, Ohio. Cetta was the director of printed matter at Cherry | Lucic in Portland, Oregon from Spring 2015 to Summer 2016; she produced books and/or prints to accompany each exhibition. She is presently an Artist in Residence at the Personal Libraries Library in Portland, OR. Worried about the future and art access, Cetta is also a volunteer digital archivist for non-profit art institutions.